Data mining Online Test, Data mining question and answers, mock test
Data mining Online Test: Online Data Mining Practice and Preparation Tests cover Mining Engineering, Data Mining, Data Sufficiency, Data Interpretation, Data Analysis Test 1, Data Base. Data mining is the process of sorting through large data sets to identify patterns and establish relationships to solve problems through data analysis. Data mining tools allow enterprises to predict future trends.
Discovering hidden value in your data warehouse. Overview: Data mining, the extraction of hidden predictive information from large databases, is a powerful new technology with great potential to help companies focus on the most important information in their data warehouses.
Data mining Online Test
| | | |
| --- | --- | --- |
| Test | Question | Launch Test |
| Data mining Online Test Series 1 | 20 | Go to Test |
| Data mining Online Test Series 2 | 20 | Go to Test |
| Data mining Online Test Series 3 | 20 | Go to Test |
Data Mining is defined as the procedure of extracting information from huge sets of data. In other words, we can say that data mining is mining knowledge from data. The above online starts off with a basic overview and the terminologies involved in data mining and then gradually moves on to cover topics such as knowledge discovery, query language, classification and prediction, decision tree induction, cluster analysis, and how to mine the Web. The information or knowledge extracted so can be used for any of the following applications:
Market Analysis
Fraud Detection
Customer Retention
Production Control
Science Exploration
Data Mining Applications
Data mining is highly useful in the following domains:
Market Analysis and Management
Corporate Analysis & Risk Management
Fraud Detection
Apart from these, data mining can also be used in the areas of production control, customer retention, science exploration, sports, astrology, and Internet Web Surf-Aid
How to attend the test?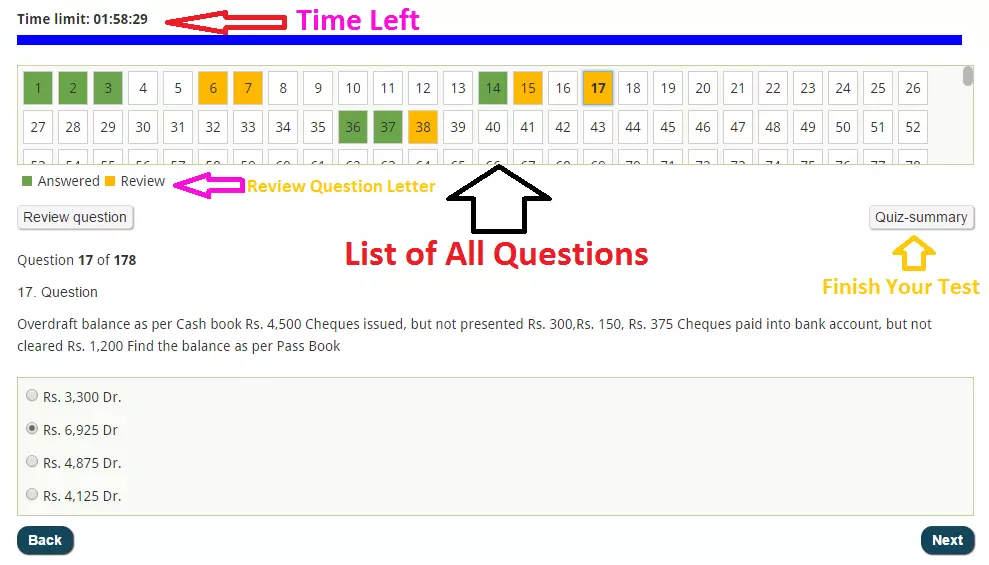 ---
01
We provide Many Test Option, Go through available test options and pick the one best suited for your preparation. Click on "Go to Test".
---
02
You will reach the selected mock test page. Now please Read all the instructions carefully. Click on "Start Test or Start Quiz".
---
03
Your first question will appear on the screen. Once you have answered a question, click on "Next". or if you have doubt in question or if you want to review any question again then please click on "Review Question"
---
04
You can skip a question or jump across questions by clicking on a question number. When you want to finish the test, Click on "Quiz Summary" → then click on "Finish Quiz".
Recommended Online Test