MSCIT Online Test 2019, mscit mock test, MSCIT Online Exam in Marathi
MSCIT Online Test, MSCIT Mock Test Papers, MSCIT Model Test Papers Online, MKCL MSCIT Online Test Series in Marathi and English. MSCIT Quiz In Marathi. MSCIT Question and Answers. MSCIT Mock tests are designed to give the student a hands on experience of the MSCIT Exam. MSCIT Exam is Conducted by MKCL and MSCIT Certificate is required for Various Government Exams Held in Maharashtra. Check out MSCIT Online Mock Test Series, Take Free MSCIT Online Model Test Papers…
MSCIT Online Test, MSCIT Mock Test Papers
| | | |
| --- | --- | --- |
| Test | Question | Launch Test |
| MSCIT Power Point Online Test | 30 | Go to Test |
| MSCIT MS Word Online Test | 30 | Go to Test |
| MSCIT MS Excel Online Test | 30 | Go to Test |
| MSCIT Internet Online Test | 30 | Go to Test |
| MSCIT Computer Fundamental Test | 30 | Go to Test |
| MSCIT Computer Operating System Test | 30 | Go to Test |
| MSCIT Data Base Management Test | 30 | Go to Test |
MSCIT Various Exams Online Tests
By practicing with the MSCIT Mock Tests given here, you will not only be prepared about the type of exam, but also be able to judge and plan your preparation with the GKknowledge.in preparation analysis. Now scroll down below n check various "MSCIT Mock Test Papers, MSCIT Model Test Papers Online"
Topics for MSCIT Final Examination
| | |
| --- | --- |
| Objective Topics | Practical Topics |
| Internet, The Web and Electronic Commerce | Windows 7 |
| System Software | MS-Word 2013 OR Open Office.org Writer |
| The System Unit | MS-Excel 2013 OR Open Office.org Calc |
| Input and Output | MS-PowerPoint 2013 OR Open Office.org Impress |
| Secondary Storage | Internet Explorer 7.0 OR Mozilla |
| | MS-Outlook 2013 OR Mozilla Mail |
Examination Pattern
Duration of Exam: 60 minutes (1 Hour)
Total Questions: 50, Total Marks: 50
Marks per Question : 1
All the questions in the examination are divided into 3 levels.

Level 1 = Low difficulty level
Level 2 = Medium difficulty level
Level 3 = High difficulty level

Exam Pattern: Level wise distribution of questions and Marks
Difficulty
No. of questions
Objective
Practical
Total
Low
6
14
20
Medium
6
14
20
High
3
7
10
TOTAL
15
35
50
Marks per question : 1
Re-examination:
Re-Exam fees: Rs. 355/-
Please note that in the case of failure or absenteeism in the first available final online exam attempt, Learner can appear for re-examination for next two consecutive available exam events by paying requisite fees. If Learner remains absent or fails in these two attempts, s/he will have to register afresh again by paying full Course Fees.
MSCIT Online Test Series in Marathi
Available Soon
Take CAknowledge MSCIT various Online mock test series for Practice MSCIT Exam. MSCIT Exam is held by VMOU after every 3 months and the MSCIT is taken by thousands of students each year. In order to ace the exam and get the extra edge in your preparation it is necessary to know before hand the type and difficulty of questions that you will face in the exam.
How to give the test?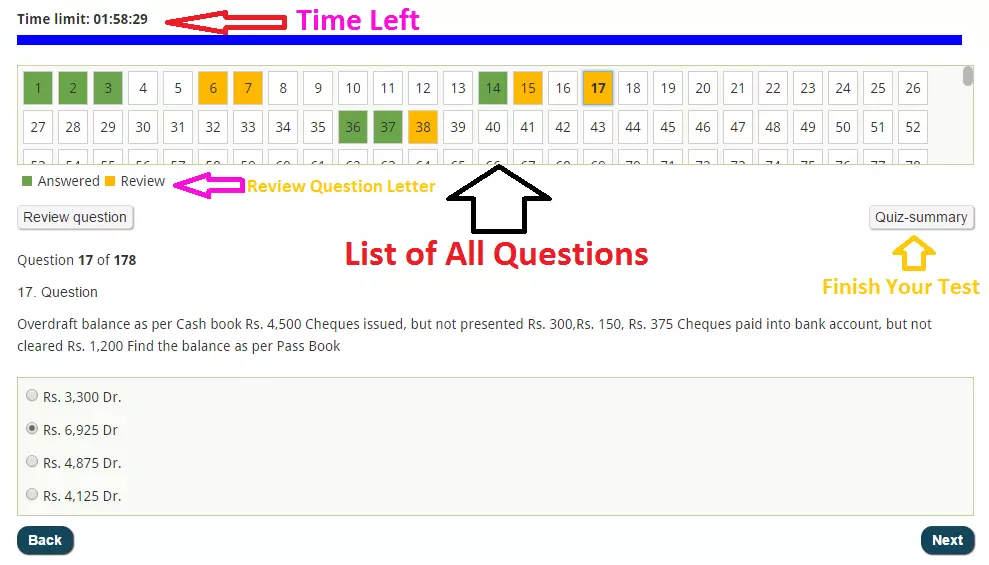 ---
01
We provide Many Test Option, Go through available test options and pick the one best suited for your preparation. Click on "Go to Test".
---
02
You will reach the selected mock test page. Now please Read all the instructions carefully. Click on "Start Test or Start Quiz".
---
03
Your first question will appear on the screen. Once you have answered a question, click on "Next". or if you have doubt in question or if you want to review any question again then please click on "Review Question"
---
04
You can skip a question or jump across questions by clicking on a question number. When you want to finish the test, Click on "Quiz Summary" → then click on "Finish Quiz".
Recommended Online Tests –