RSCIT Online Test 2019, rscit mock test 2019, RSCIT online exam in hindi
RSCIT Online Test 2019: rscit online test paper 2019, caknowledge provide updated rscit mock test 2019 in free for all candidates who applied for rkcl rscit exam 2019. take RSCIT Mock Test Papers january 2019 in free and get full marks in your next rscit exam, RSCIT Model Test Papers Online, RSCIT Online Test Series in Hindi and English Language. Next RSCIT Exam will expected to be conducted in the month of February 2019. RSCIT Quiz In Hindi. RSCIT Question and Answers.
RSCIT Mock tests are designed to give the student an online experience of the RSCIT Exam. RSCIT Exam is Conducted by VMOU Kota and RSCIT Certificate is required for Various Government Exams Held in Rajasthan. Check out RSCIT Online Mock Test Series, RSCIT Online Model Test Papers. Find rscit exam papers with solutions in Hindi, next rkcl rscit exam going to be held in 2019. Keep learning and get Ready for the RSCIT Exam.
RSCIT Online Test 2019, RSCIT Mock Test 2019
RSCIT Test Series in Hindi
RSCIT Previous Exams Online Test
By practicing with the RSCIT Mock Tests given here, you will not only be prepared about the type of exam but also be able to judge and plan your preparation with the GKknowledge.in preparation analysis. Now scroll down below n check various "RSCIT Mock Test Papers, RSCIT Model Test Papers Online"
RSCIT Mock Test
Take CAknowledge RSCIT various Online mock test series for Practice RSCIT Exam. RSCIT Exam is held by VMOU after every 2 or 3 months and In The RSCIT exam, thousands of students appeared every year.
RSCIT Online Exam
Online Test is very useful for RSCIT exam preparation, by using below online test you may test your whole rscit study and also know that how much you are prepared for RSCIT 2018 Exams. In the below online test or RSCIT Online Quiz, we provide all subjects important questions and answers. Now take free RSCIT Online Test or Online Quiz from below…
How to give the test?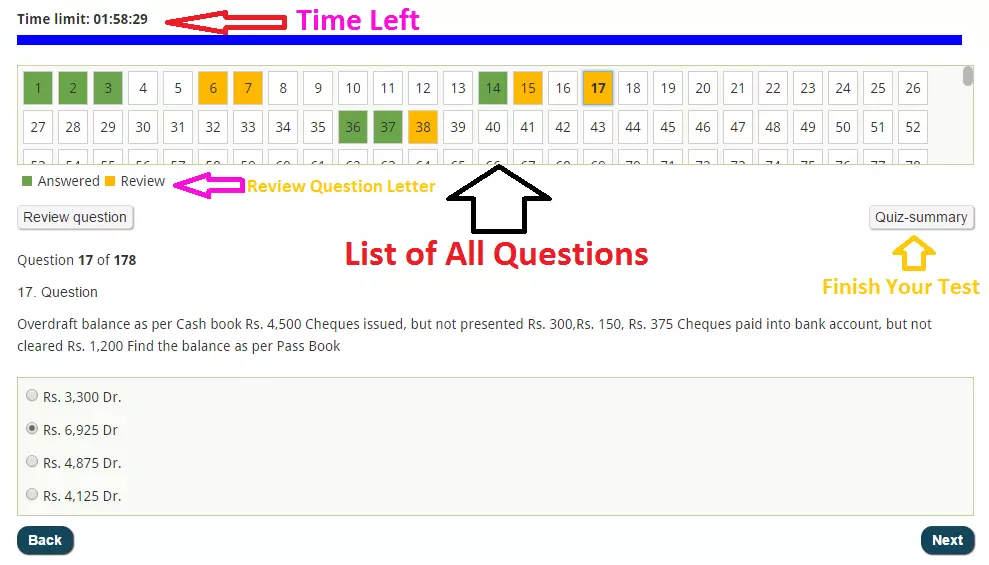 ---
01
We provide Many Test Option, Go through available test options and pick the one best suited for your preparation. Click on "Go to Test".
---
02
You will reach the selected mock test page. Now please Read all the instructions carefully. Click on "Start Test or Start Quiz".
---
03
Your first question will appear on the screen. Once you have answered a question, click on "Next". or if you have doubt in question or if you want to review any question again then please click on "Review Question"
---
04
You can skip a question or jump across questions by clicking on a question number. When you want to finish the test, Click on "Quiz Summary" → then click on "Finish Quiz".
Recommended Online Tests –