rsmssb online test, RSMSSB Computer Operator mock test 2019
rsmssb online test, RSMSSB Computer Operator mock test 2019. Candidates who are going to appear for the RSMSSB written test can practice the online test for RSMSSB Jobs 2019. Practicing the RSMSSB Computer Operator Previous Papers with online test is an important task for the contenders before going to appearing for the exam. Eligible Candidates can Practice RSMSSB Computer Operator Online Test from here…
RSMSSB Computer Operator mock test
| | | |
| --- | --- | --- |
| Test | Question | Launch Test |
| RSMSSB Computer Operator Online Test Series 1 | 100 | Go to Test |
| RSMSSB Rajasthan GK Online Test in Hindi | 30 | Go to Test |
| RSMSSB Rajasthan GK Online Test in Hindi series 2 | 30 | Go to Test |
| RSMSSB Computer Operator Online Test Series 3 | 50 | |
| RSMSSB Computer Operator Online Test Series 4 | 50 | |
| RSMSSB Computer Operator Online Test Series 5 | 50 | |
rsmssb online test
RSMSSB Computer Operator Recruitment 2019, Upcoming RSMSSB Vacancies for the post of Computer Operator Vacancies, Online Application Form is available at rsmssb.rajasthan.gov.in Rajasthan Subordinate and Ministerial Service Selection Board Recruitment 2019: –RSMSSB has issued a notification for the recruitment of Sanganak (Computer) Vacancy at 400 posts. Interested candidates may apply by 27th March 2019.
Free rsmssb Online Test for various competitive examination, entrance examination and campus interview. Take various rsmssb online tests and find out how much you score before you appear for your next interview and written. Practice for rsmssb Computer Operator 2019 exam by solving the rsmssb Computer Operator 2019 Online Test Series, free mocktest, online practice test, and previous year question papers. Try our free online Mock Test of rsmssb Computer Operator 2019 nd score better in main rsmssb Computer Operator Exam. A student can also attempt online mock practice test by clicking the link given below. To attempt for online test series click the link given below
How to give the test?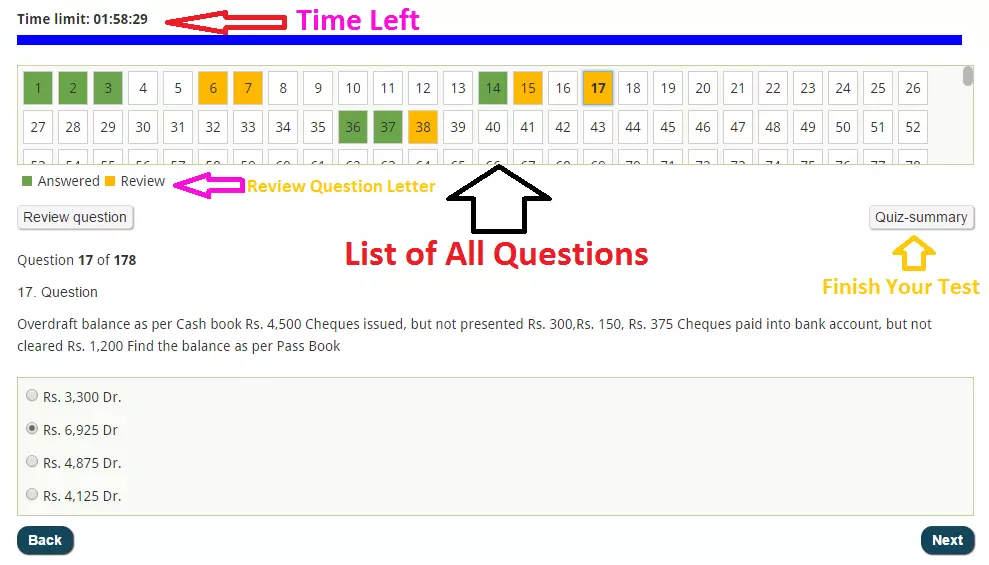 ---
01
We provide Many Test Option, Go through available test options and pick the one best suited for your preparation. Click on "Go to Test".
---
02
You will reach the selected mock test page. Now please Read all the instructions carefully. Click on "Start Test or Start Quiz".
---
03
Your first question will appear on the screen. Once you have answered a question, click on "Next". or if you have doubt in question or if you want to review any question again then please click on "Review Question"
---
04
You can skip a question or jump across questions by clicking on a question number. When you want to finish the test, Click on "Quiz Summary" → then click on "Finish Quiz".
Recommended Online Test