SSC Online Test 2019, SSC Mock Test 2019, CGL online test 2019: Take our free SSC CGL Online Test 2019 In Hindi, English languages. SSC Question & Answers 2019. Online Test Series for SSC CGL Exam 2019 in Hindi, SSC CGL Online Test in English. SSC CGL Quiz in Hindi and English 2019. online reasoning test in hindi for ssc. SSC CGL Question and Answers in Hindi and English.
Staff Selection Commission taken CGL Exam Every Year and Here we Provide SSC CGL Various Test Series in English and In Hindi. Online Test for SSC CGL, SSC CGL quiz in English, SSC CGL Model Papers, SSC CGL Sample Papers, SSC CGL Mock Test Papers 2019.  SSC CGL online test is very useful for all student who want to appearing in SSC Exams. SSC CGL Online test is free for all candidates.
SSC CGL Online Test 2019 In Hindi, English
SSC CGL Verbal Ability Online Test
SSC CGL Aptitude Online Test
SSC CGL GK Online Test in Hindi
SSC CGL MCQ
Here we are providing the Latest SSC CGL Online Test Series 2019 in Hindi & English Language, in order to best preparation for SSC CGL Examination 2019. Candidates who are going to appear in SSC CGL examination they must solve the below online test series and Test there preparation easily. Take SSC CGL Mock Tests to get good marks. SSC Mock tests and SSC online test series are Very Helpful and collections of the conceptual questions which gives you help in score better in SSC Exams 2019.
SSC CGL Mock Test
The below test series and SSC CGL mock tests are based on the new pattern or new syllabus 2019 and free for all students. While solving the question of the online test series, you will get yourself active. The below SSC CGL 2019 Online Test Series will give you the experience to solve a question in the least time.
If a candidate wishes to get a good rank in SSC CGL exam, then he should solve the below test series. Through SSC CGL online Test Series students find their strengths and weaknesses and try to resolve than before appearing in exams. If students don't want to miss the online test series so keep update you on it.
How to give the test?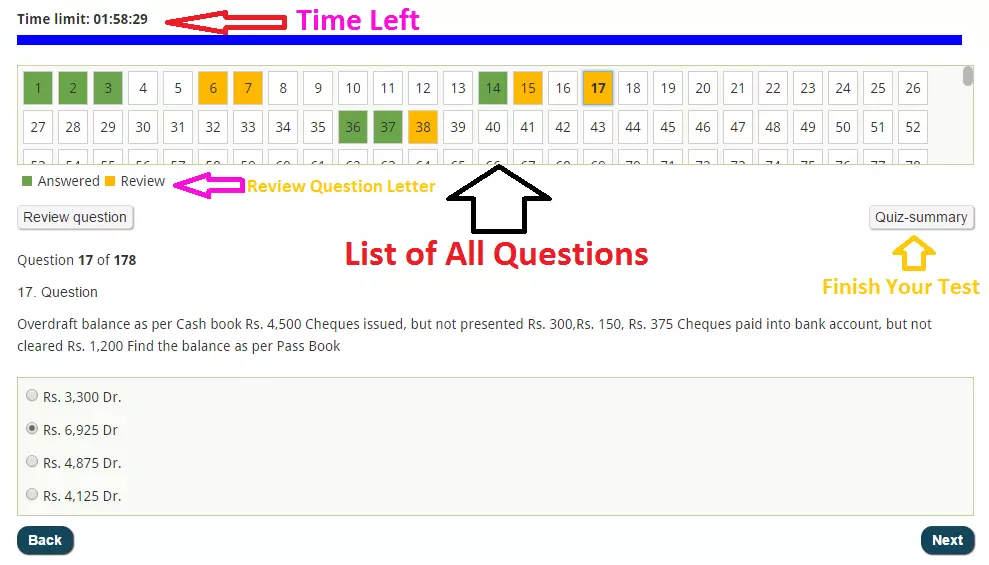 ---
01
We provide Many Test Option, Go through available test options and pick the one best suited for your preparation. Click on "Go to Test".
---
02
You will reach the selected mock test page. Now please Read all the instructions carefully. Click on "Start Test or Start Quiz".
---
03
Your first question will appear on the screen. Once you have answered a question, click on "Next". or if you have doubt in question or if you want to review any question again then please click on "Review Question"
---
04
You can skip a question or jump across questions by clicking on a question number. When you want to finish the test, Click on "Quiz Summary" → then click on "Finish Quiz".
Recommended Online Test –