SSC CPO Online Test 2019, Mock Tests, Question Paper Hindi & English
SSC CPO Online Test 2019, Online Preparation, Mock Tests, Question Paper, Online Quiz. SSC CPO Online Test 2019 In Hindi, English, SSC CPO Mock Test 2019, SSC CPO Question & Answers. Complete Online Preparation for SSC CPO 2019 exams with various online Tests, Mock Tests & Videos created by Exam Toppers. Here we are providing the Latest SSC CPO Online Test Series 2019 in Hindi & English Language, in order to best preparation for SSC CPO Examination 2019. Now check out our latest SSC CPO Online Test from below…
SSC CPO Online Test 2019
| | | |
| --- | --- | --- |
| Test | Question | Launch Test |
| SSC CPO Online Test in Hindi – Series 1 (Big Test) | 100 | Go to Test |
| SSC CPO Mock Test in Hindi – Series 2 (Big Test) | 100 | Go to Test |
| SSC CPO Quantitative Aptitude Online Test in Hindi Series 1 | 20 | Go to Test |
| SSC CPO Quantitative Aptitude Mock Test in Hindi Series 2 | 20 | Go to Test |
| SSC CPO GK and General Awareness Online Test in Hindi Series 1 | 20 | Go to Test |
| SSC CPO GK and General Awareness Online Test in Hindi Series 2 | 20 | Go to Test |
| SSC CPO General Intelligence and Reasoning Online Test in Hindi Series 1 | 20 | Go to Test |
| SSC CPO General Intelligence and Reasoning Online Test in Hindi Series 2 | 20 | Go to Test |
| SSC CPO English Comprehension Online Test in Hindi Series 1 | 20 | Go to Test |
| SSC CPO English Comprehension Online Test in Hindi Series 2 | 20 | Go to Test |
| SSC CPO Online Test in English – Series 1 | 50 | Wait |
| SSC CPO Online Test in English – Series 2 | 50 | Wait |
SSC CPO Mock Test
The below test series and ssc CPO mock tests are based on the new pattern or new syllabus 2019 and free for al students. While solving the question of the online test series, you will get yourself active. The below SSC CPO 2019 Online Test Series will give you the experience to solve a question in the least time.
If a candidate wishes to get a good rank in SSC CPO exam, then he should solve the below test series. Through SSC CPO online Test Series students find their strengths and weaknesses and try to resolve then before appearing in exams. If students don't want to miss the online test series so keep update you on it.
SSC CPO 2019 Exam Pattern
Check SSC (CPO) Paper 1st and Paper 2nd Examination Pattern for 2019 Exams. Staff Selection Commission (SSC) decided to conducts  SSC-CPO examination on two phases. Paper 1 will be objective type and Paper 2 will be descriptive type. The objective paper will comprise four sections asGeneral Intelligence & Reasoning, General Awareness, English, Quantitative Aptitude and paper 1 have the weight of 150 Marks and Paper 2 has weightage of 50 Marks.
SSC CPO Paper 1 Exam Pattern
Paper – I (Tier-I) has four sections. You can check the below table for complete details.
| | | | |
| --- | --- | --- | --- |
| | Subject | No. of Questions | Max. Marks |
| Part-A | General Intelligence & Reasoning | 50 | 50 |
| Part-B | General Awareness | 50 | 50 |
| Part-C | Quantitative Aptitude | 50 | 50 |
| Part-D | English | 50 | 50 |
Paper I will be online consisting 200 questions for 200 marks.
You will be given 2 hours to answer questions
Each correct answer will fetch you +1 mark and each wrong answer will fetch you -.25 marks.
SSC CPO Paper 2 Exam Pattern
Subject
No.
of Qs
Max
Marks
Duration
English Language
& Comprehension
200
200
2 Hours
Questions in both SSC-CPO Papers will be of Objective or Multiple Choice Type.
SSC-CPO Questions will be set in Hindi and English in Parts A, B and C of Paper I.
There will be negative marking of 0.25 marks for each wrong answer in Paper-I & Paper-II.
You are, therefore, advised to keep this in mind while answering the questions.
The Commission may fix qualifying marks in Paper-II later, but as of now, it is just of qualifying nature.
You may also note that as per the official notification of SSC, it has the right to add additional stages to the selection process.
How to give the test?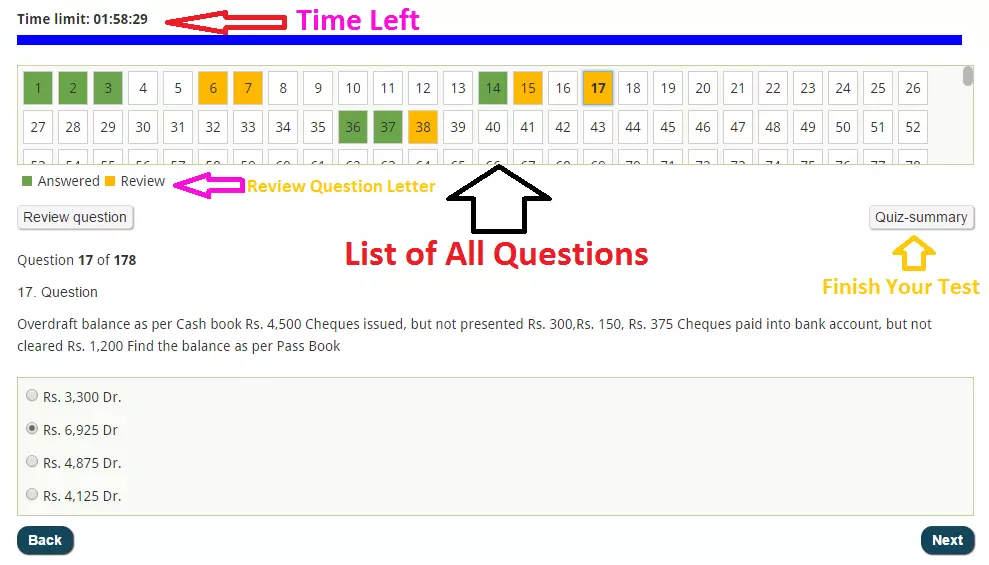 ---
01
We provide Many Test Option, Go through available test options and pick the one best suited for your preparation. Click on "Go to Test".
---
02
You will reach the selected mock test page. Now please Read all the instructions carefully. Click on "Start Test or Start Quiz".
---
03
Your first question will appear on the screen. Once you have answered a question, click on "Next". or if you have doubt in question or if you want to review any question again then please click on "Review Question"
---
04
You can skip a question or jump across questions by clicking on a question number. When you want to finish the test, Click on "Quiz Summary" → then click on "Finish Quiz".
Recommended Online Tests –